For making my taxidermy style eyes, I start with 1) an eye blank mold. These molds can be cast off almost anything the size/shape you want. 2) mold release 3) the 2 part casting resin. 3) something to measure with and 4) a container to mix the resin in.




I clean the mold and apply the mold release. Then I slowly mix up the resin and carefully pour it in the mold.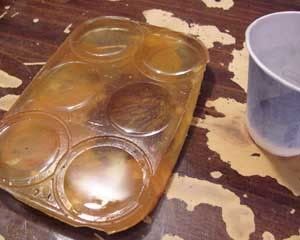 After letting it cure for a day or two, I demold it. And there I have my eye blanks.




Pretty simple, really.